Tourist Attractions
Palakkad Fort
Fort dating from 1766, built by Hyder Ali of Mysore. In 1784, after a siege which lasted eleven days, the British Colonel Fullerton stormed the Fort.[citation needed] Later it fell into the hands of the Zamorin's troops, but was recaptured by the British in 1790. [citation needed] This well-preserved fort is also known as Tipu's (Tipu Sultan, son of Hyder Ali) Fort. Today there is a functioning jail in the fort grounds.
Malampuzha Dam and Malampuzha dam garden
This is a large irrigation dam built on the river Bharathapuzha at the base of the hills of the Western Ghats. The gardens, the amusement park for children, and the boating facilitices on the reservoir make Malampuzha a centre of interest for tourists, easily accessible from Palakkad.
Kalpathi
One of the 18 Agraharams of Palakkad District on the banks of the Kalpathy river, famous for its annual Ratholsavam. One of the oldest settlements of Tamil Brahmins in Kerala, it dates back to the 15th century.
Dhoni Waterfalls
It is a gift of nature to the district with green forest, rocks, shallow water and beautiful water fall. Dhoni waterfall is in the western ghats 15 km from the Palakkad Town bus stand and 9 km from the Palakkad Junction railway station. There is a beautiful temple near the mountain valley and it is believed that this was built by the Goddess for Shiva Bhagawan.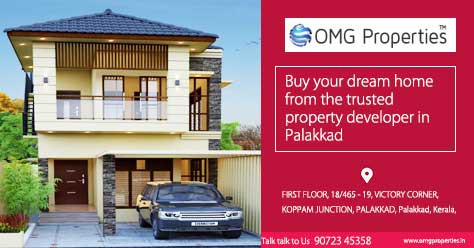 OMG PROPERTIES
Buy your dream home from the trusted property developer in Palakkad