Personalities
KALAMANDALAM RAMANKUTTY NAIR
Kalamandalam Ramankutty Nair is one of the most senior performers of Kathakali, having been a grand and sober presence on the art form's stage for a span of over seven decades.[1] More than the longevity, it is the poise and precision of his body movements that enable him to stand out as a master craftsman of the heavily stylised Kalluvazhi style of the four-century-old dance-drama from Kerala in southern India.
If Kathakali, like any classical performing art, is poetry in motion, then Ramankutty Nair, with his jerkless and polished movement of the limbs and torso, best exemplifies it. He owes the purity of his style to his legendary guru Pattikkamthodi Ravunni Menon, his only teacher in his entire career. Both hail from Vellinezhi, which is still known for churning out a lot of Kathakali artistes, in Palakkad district. [3] Ramankutty Nair had served in his alma mater, Kerala Kalamandalam, and went on to become its principal.
Of all roles, he has been most celebrated for the portrayal of the anti-hero Kathi roles. His Ravana, Duryodhana, Keechaka and Cheriya Narakasura have had few parallels in perfection and power. He is equally a master in the essay of the Hanuman, the monkey-god in the three storyplays of Kalyanasougandhikam, Thoranayuddham and Lavanasuravadham. It was, however, through a pathbreaking portrayal of sage Parasuraman in semi-realistic make-up and costumes (in place of the traditional yellow-hued pazhuppu vesham) that earned Ramankutty Nair much acclaim in his earlier days.
KUNCHAN NAMBIAR
Kunchan Nambiar was the master of satirist poetry. The chief contribution of Nambiar is the invention and popularization of a new performing art known as Thullal. The word literally means "dance", but under this name Nambiar devised a new style of verse narration with a little background music and dance-like swinging movement to wean the people away from the Chakkiyar Koothu, which was the form popular till then. He was to use pure Malayalam as opposed to the stylized and Sanskritized language of Koothu. He also adopted many elements from Padayani or Kolam Thullal and certain other folk arts. It is reasonable to assume that he was himself a performer. The firsthand knowledge of the various thalas and ragas and even the practices of drummers is a pre-requisite for the writing of a Thullal. Kunchan Nambiar possessed this in abundance. Each Thullal composition consists of a Puranic tale retold in simple rhythmic verse, fit for loud recitation before an audience. There are three kinds of Thullal distinguished on the basis of the performer's costume and the style of rendering, viz., Ottan, Seethankan and Parayan. Dravidian metres are used throughout although there is nothing to prevent the insertion of a quatrain in a Sanskrit metre. Nambiar also developed new metres (e.g. Vaythari metres) based on the vocal notation for various talas. The language also is predominantly Malayalam with a large admixture of colloquial and dialectal forms. Humour is invariably the dominant mood: other bhavas are brought in for variety and to suit the situation.
E.M.S.NAMBOODIRIPAD
Elamkulam Manakkal Sankaran Namboodiripad(June 13, 1909 – March 19, 1998), popularly known as EMS, was an Indian Communist leader and the first Chief Minister of Kerala. As the first non-Congress chief minister in independent India, he became the leader of the first democratically elected communist government in the world. He was renowned as a socialist and a Marxist theorist.
M.T. VASUDEVAN NAIR
Madathil Thekkepaattu Vasudevan Nair popularly known as MT, is a renowned Indian author,screenplay writer and film director. He was born in Kudallur, a small village in the present day Palakkad District, which was under the Malabar District in the Madras Presidency of the British Raj. He is one of the most prolific and versatile writers in modern Malayalam literature. In 2005, India's third highest civilian honour Padma Bhushan was awarded to him. He was awarded the highest literary award in India Jnanpith for his work Randamoozham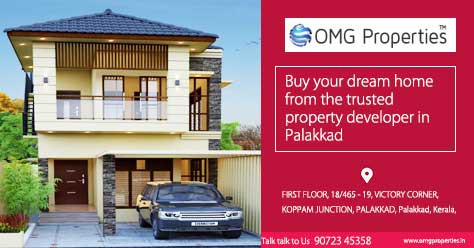 OMG PROPERTIES
Buy your dream home from the trusted property developer in Palakkad